Well, here we are. Fede's homepage.

So what is there to find here? What do I have to publish or give back to the Internet community? ...


Personal History
Born in Spain
in states since age 3
grew up mostly in Maryland US

Hobbies and fun
Computer
games
mp3
programming
work
personal
web cook book
web auto maintenance
linux
how i got into it (unix, spg)
this server
ISP
ipmasquerade
dns
nis
nfs
security
sun monitor
similar servers on the net (anchor to links)
home lan
Bike riding
mountainbike
Motorcycle riding
motorcycle now
motorcycle someday
cross country trip
Citroen 2cv
some photos of my car
my car
my car history
2cv list (javascript to subscribe/unsubscribe)
texas ami
sm elcamino
Irish pubs
a night out at Irelands own
Woodworking (something Lisa and I are just begining to learn)
Refinishing our dining room table!
Electric Bass guitar stuff
here




Links and banners of my interest: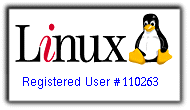 If you use linux, register with the Linux Counter.


redhat


I have been addicted to /. since mid 1998. As an aspiring geek, it is the only source of news worth my time.



This organization allows computers from all over the world (including this server) chip away at very large algorythims during idle cycles. Until now they have worked on efforts to show the government that its restrictions to 40 bit encryption are too weak. Download their client have your computer join the effort.



An Open Source implementation of the best editor there is.


Join the Blue Ribbon Online Free Speech Campaign!

Here is a banner created on the 2cv list serve I belong to.
Links to similar servers on the internet:
http://eunuchs.org/linux/intro/intro_content.html

http://mithy.dyn.ml.org/

similar servers
Resume
cover letter (who and why)
resume



Federico Grau donfede@casagrau.org
5117 Westridge Rd H (301) 229-4655
Bethesda MD 20816 updated: 1999-Feb-09
_____________________________________________________________________________

Work Experience:
GIS/Trans, Ltd.
--Programmer Analyst (April 1997 - Present)
* Wrote C++ ISAPI DLL that produced on-the-fly web pages to allow users
to log in and change their preferences on a data integration server.
The DLL stored user information in the registry and wrote errors
to the event log.
* Developed and managed 2 other developers on a truck permit issuing
program. Created VB5 dialogs to take user input and print
application forms and permits. Gathered requirements from client to
develop the next version of the application, and produced a
web-based prototype.
* Wrote the "back end" of a distributed rideshare system. Wrote
automated transfer scripts for several NT Workstations to transmit
information to a PPP server running on AIX, set up Oracle instance
to store information, and wrote Pro C programs to import and merge
data from several locations into Oracle.
* Developed map based GUI prototype application for FAA, using
Powerbuilder and Map Objects, which allowed users to search and
query information on a geographic map.
* Installed and supported AIX 4.2 for clients
* Performed system administration duties responsible for NT network, DNS,
POP/SMTP, RS/6000, and Internet connection. Developed office
standards for backups, application deployment, software libraries,
and revision control.
* Conducted on-site training courses in AIX, Oracle, and proprietary
rideshare software.

Sutton Place Gourmet
--Programmer (May 1996 - April 1997)
* Developed 2nd revision of Price Change Maintenance System in FoxPro.
This application is used to accumulate product information from
several different systems, extract changes for a specified subset
of items, and convert the results into ASCII files of different
formats. The various ASCII files were input for five different
types of Point of Sale systems.
* Wrote VB4 application to import ASCII files with frequent shopper
information into a Jet database and provide users with search and
sort utilities.
* Assisted with Novell 4.x - 3.1x administration and user support.
* Provided PC software and hardware support (on site and via phone).
--Database Administrator (October 1994 - April 1996)
* Administered item databases for product scanning at the registers
throughout 16 stores. Responsible for scanner integrity
company-wide.
* Developed and ran various FoxPro reports for profit and market studies.

GE Information Services Inc.
--Intern (June 1993 - January 1995)
* Maintained, enhanced, documented, and deployed Network Measurement
System, a program to report on exceptional line utilization in
the company's SNA network.
* Acquired experience on MVS mainframe and SNA network design and
functionality.

Software Skills:
Strong Professional experience working with C/C++, Visual Basic,
Oracle, Powerbuilder, TCP/IP, Windows NT, AIX, Windows 95,
Windows 3.x, DOS, Map Objects.
Personal experience with Linux (Internet server running from
home http://www.casagrau.org)

Education:
University of Maryland, University College
Attending since spring 96 during evenings to finish Computer Science
Major
University of Maryland, College Park
Attended fall 92 - fall 94 working on Computer Science Major
Richard Montgomery High School (1992 Grad)
International Baccalaureate Diploma Recipient

Language Skills: Fluent in Spanish (Castillian)
Hobbies: Home Internet server and LAN; motorcycle riding; Citroen 2CV